As a Connecticut homeowner, you have several faucets in your home. When it comes to purchasing and servicing your home faucets, there are some things to consider:
First, determine what type of faucet you need. Whether it's for your kitchen, bathroom, laundry room or outdoors, you will have many options available. Once you know what type of faucet you want to purchase, you can begin to explore those options.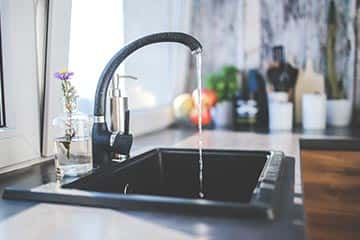 Second, decide if you want a standard faucet or something a little more fancy or with more features. For example, do you want your kitchen faucet to be able to pull out from the base and have a spray function, so you can direct the nozzle around the walls of the sink or deep into pots as you rinse them? You'd be surprised by the number of special features available, and you may find you want something more than just a standard, basic faucet. It doesn't hurt to pamper yourself, since a faucet is something that gets a lot of use.
Third, match your faucet to the decor of the room. From your shabby chic bathroom to your Tuscan kitchen, there's just the right faucet to suit your design needs. Oftentimes, faucets will come in a variety of finishes as well. From brushed nickel to polished brass, you will have plenty of choices. We recommend you consult with our experienced plumbers who can show you top quality faucets and to discuss your needs and the various options available to meet those needs. By Choosing a higher quality faucet, we can often provide a better warranty on the faucet, as well as a guarantee on the work.
Fourth, an important thing to strongly consider when purchasing a faucet is deciding who will install it. It's vital that the job is done correctly, and so hiring a licensed plumber is essential when repairing, installing or replacing a faucet. A plumber will make certain that the job is completed properly and will be able to efficiently troubleshoot any problems or difficulties with the installation.
Finally, over time with much use, it is inevitable that faucets have the potential for problems. They can leak, become loose or stop working all together. Let our professional plumbers troubleshoot those repairs to give you more life out of the faucet if it makes sense.
Whenever you're about to shop for a faucet or you need to repair one, remember that contacting Advance Plumbing and Heating is your best first step.