Advance Plumbing & Heating is a full-service, licensed boiler and furnace repair and replacement specialist. Whether it's broke and needs to be fixed or time for a replacement - we can help!
Choosing a Home Heating Systems
Winters in the Northeast can feel like the longest of seasons, with the grayness, cold, snow and short days all contributing to this perception.
The following will detail some of the basics of residential heat systems, what are some of the top brands, and tips for saving money and deciding if it's time to install a more energy efficient system. While these tips are for Connecticut homeowners, this information can be useful for anyone living in an area with similar winter weather.
Boilers vs. Furnaces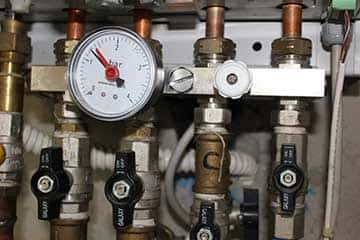 The most basic distinction between furnaces and boilers is their process of heat conduction. Furnaces use fans and a combustion chamber to spread warm air, and boilers use heated or vaporized water. Both types can use gas, oil or electricity as fuel. Both systems are popular today, and the decision to get either one should be based on thorough research and factors such as your home's current system (if you're retrofitting or installing a new unit in an older house) and your overall needs and budget. The following will help by explaining the difference between the two systems and will offer a few of the pros and cons of each system.
Boilers
Boilers heat water to either sub-boiling temperatures or vaporize it into steam, which is then circulated through a network of pipes leading to a radiant flooring system, a cast iron radiator, to the baseboards in your home, or a combination of these.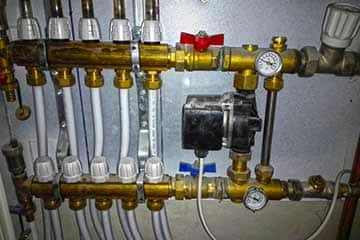 Boiler systems distribute heat consistently in your home and can be set to different temperatures for separate rooms. They don't spread dust or allergens the way furnaces do, which make them a good choice for people with asthma or allergies. Further, modern boilers work silently and don't produce the annoying sounds that were a common complaint about older versions. The chief drawback of boiler systems is that they are initially a good deal more expensive to install, although some units require less maintenance than furnaces and can be quite energy efficient as well.
Furnaces
Furnaces are the most common home heating system in the U.S. They use heated air and distribute it throughout the house by ducts and vents. Furnace systems are considerably cheaper to install, and the duct work of a furnace can be used for central cooling systems as well. Depending on which unit you buy, these heating systems can be quite energy efficient.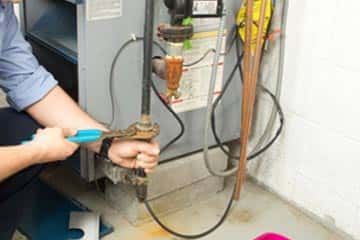 Furnaces, however, blow heated, dusty and dry air throughout your house, and usually require more maintenance.
For new homes, the decision between a furnace or boiler often comes down to your budget. Your HVAC system will most likely be the costliest appliance in your home, so choosing a quality brand is important. A slightly more expensive brand may enable you to avoid costly repairs or replacements down the line, and it will likely be much more energy efficient, saving you money on your fuel bill.
Another key to being highly satisfied with a retrofit or new heating unit is to hire a certified and highly rated installation professional. In particular, hiring a licensed plumber for a heating job is vital as they have the requisite training and experience to do the job right. At Advance Plumbing and Heating, we have been helping homeowners in Connecticut for over 60 years with their plumbing and heating systems.
The following will detail some of the better brands as based on Consumer Report's comprehensive survey of popular HVAC brands.
American Standard

One of the most reliable of brands, American Standard products — though at the upper end of the price scale — have been found to excel in performance and durability, requiring the least amount of reported repair calls.

Carrier

Carrier is a well-known brand of premium priced and above-average quality HVAC products. They offer a comprehensive range of products.

Amana

For a mid-range option, Amana offers an unparalleled warranty on their products at a more affordable price point.
If your energy bill is trending upwards, your system needs frequent repairs, or it is over 15 years old, it may be time to consider installing a new system. As mentioned above, it is essential to hire a licensed pro. Jobs done well will make whichever heating system you choose last longer and run as efficiently as possible, saving you money. Another money-saving idea is to install a clock, or programmable, thermostat. These can adjust the heating or cooling levels for your home when you're out or sleeping.